February 28, 2022
We're extremely excited and proud to officially announce the launch of our Learning Engagement Platform, Sidekick!
After a year of hard work, we're finally ready to share Sidekick with the world.
To read the official press release click here.

What Is Sidekick?
Sidekick is like Zoom for training. It's a software platform that removes the complexity from live, virtual training.
Designed to empower trainers with the tools to deliver effective training to distributed workforces, it's the only technology that tracks and addresses learner engagement for virtual training.
Training In 2022 Is Broken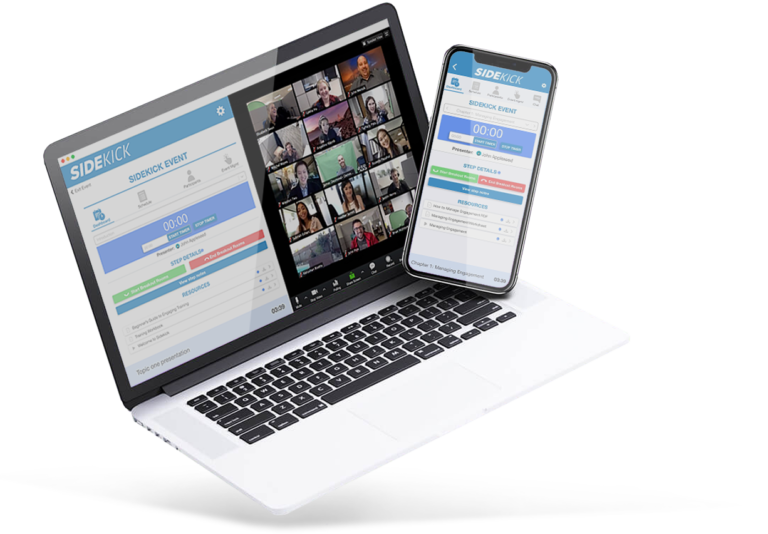 Every year companies generate in excess of $13,000 in training waste per employee because of learner disengagement.
With most live training now shifting to remote because of distributed workforces, learner disengagement is at an all time high. Live training lost its humanity when it shifted to virtual, and trainers need help.
The reality for most trainers is that live training has never been more complex, and there has been little to no help to support them.
These days, trainers have a laundry list of complex tasks to juggle in order to run a live, virtual training session.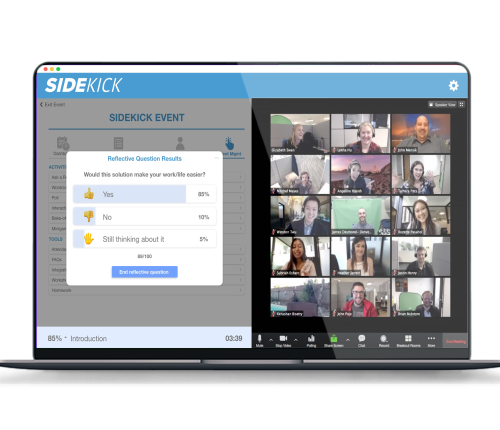 These include:
Managing the technology
Managing communications before, during and after a training session
Engaging learners and stimulating active learning
Ensuring learners have all the reference materials they need to follow along
Presenting the actual content
And the list goes on!
Until Sidekick, no viable technology solutions existed to help trainers manage the complexity of live, virtual training.
"As remote training for distributed workforces has become the norm, a gap has developed that has left trainers feeling ill-prepared and preoccupied with the new complexities of live virtual training. Sidekick's mission is to remove these complexities so trainers can focus on what their expertise is, instruction."
Ben Zimmer CEO, Sidekick Training
Empowering Trainers With Data Insights
One of Sidekick's most unique abilities is its ability to capture live learner engagement data in real-time.
"Sidekick's most powerful aspect lies in its ability to capture learner engagement data in real-time. Trainers can pivot and adjust their approach accordingly based on this data.

Through Sidekick, trainers are equipped with a collection of engagement features they can leverage to optimize learner engagement in any live, virtual training scenario."
Kareem Khaled Tech Lead, Sidekick Training
Not only are trainers empowered with streaming data to help them be more responsive to their learner's unique needs, HR & Business Leaders now have access to a wealth of data to measure training effectiveness and overall training ROI.
Take The Sidekick Challenge!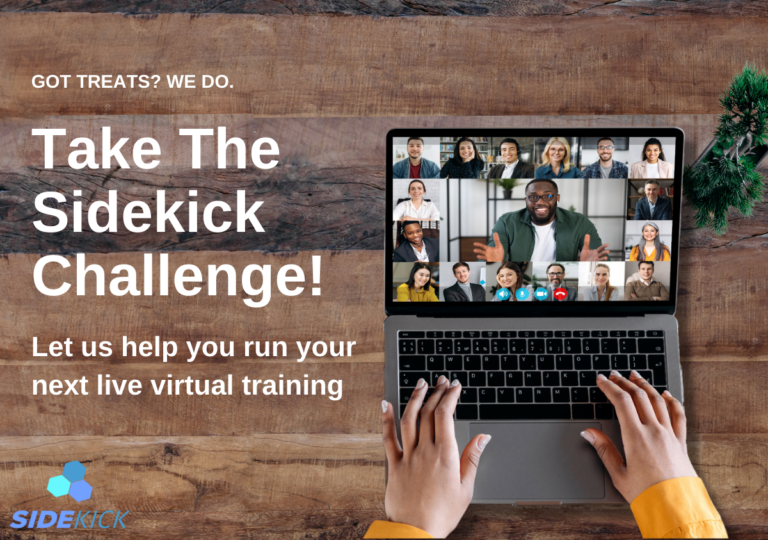 Currently the platform is available for free trial to users for a 3-month period as part of our Take the Sidekick Challenge! Campaign.
Along with unlimited access to Sidekick's full feature suite, trial users will also have the opportunity to schedule a 1-hour meeting with a Learning Experience Designer, who will provide recommendations on training strategy and how best to leverage Sidekick to full effect.
To learn more about the trial user promotion, visit Sidekick's trial user sign up page.
To learn more about Sidekick Training, visit the Sidekick website.