November 8, 2022
Sidekick V1 Launch
We recently held our virtual Sidekick V1 Launch where we shared ideas and learnings with a group of like-minded attendees. We addressed the biggest challenges in virtual instructor-led training (VILT), and guest speakers shared their experiences, research and tips. We also shared the new Sidekick V1 feature-set, which includes playbooks to build better learning events, live gamification to spark engagement, and new, more powerful, data visualizations.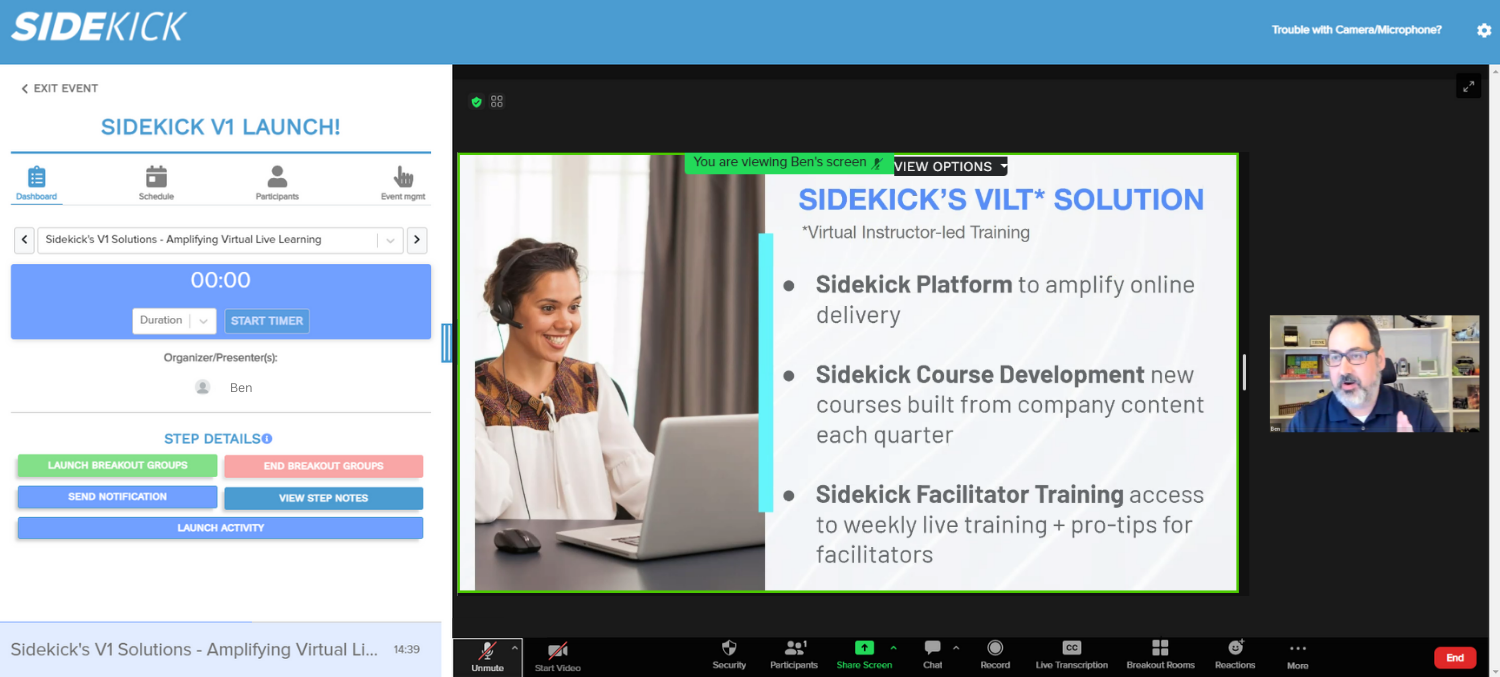 Businesses 
At Sidekick we know that learning can make or break businesses. That's why we've developed the Sidekick VILT solution: to help companies transform any employee into a great educator.
Businesses typically lack trained teachers, facilitators, and Learning and Development (L&D) experts. Yet 48% of employees say they would leave their company for better learning opportunities. In the competition for talent, some businesses are losing because of these learning and development gaps.
At Sidekick, we are solving this problem with digital tools, custom instructional resources, and facilitator training.
Challenges with Virtual Live Learning
Some of the biggest challenges that companies face in scaling up a live-learning program include:
Lack of facilitator training
Weak course content / design
Juggling multiple tools and resources
Invisible / disengaged learners 
Lack of data to drive improvement
Rebecca White, CEO of Engineers of Tomorrow, was one of the guest speakers at the launch and shared her experiences using Sidekick. Rebecca described how Sidekick dramatically improved engagement of their volunteers and that they can replicate the event annually.
Shann McGrail, CEO of Haltech, was another early adopter of the Sidekick platform, and has used Sidekick to host their Beyond Boundaries program. Haltech is an innovation center helping start-up and scale-up companies to optimize their business, so using an innovative platform to host their program made sense to them!
Sidekick Virtual Instructor-led Training
During conversations with clients and potential clients, many have identified that they face multiple challenges in offering their employees great learning. Very few people have a strong platform, good learning content, and a facilitator to deliver training now.
So we've developed the Sidekick VILT Solution, which has three components:  
The Sidekick Platform is like Zoom but with gamification, better data, and engagement features
Custom Course Development built from your companies' materials
Facilitator Training that can turn any employee into a great educator
Combined, these three components give companies what they need to implement a structured live learning program without the cost of hiring a learning and development professional.
Sidekick V1 Features
Sidekick has already proven it can solve problems for clients. With Sidekick's new V1 feature-set, we're taking learning and engagement to the next level. 
Before, you could create choreographed learning events, quizzes and polls, reflective questions, and use the participant spinner. We've taken feedback, listened to ideas, and responded with three new V1 features: Sidekick Playbooks, Games, and our new Data Dashboard.
Sidekick Playbooks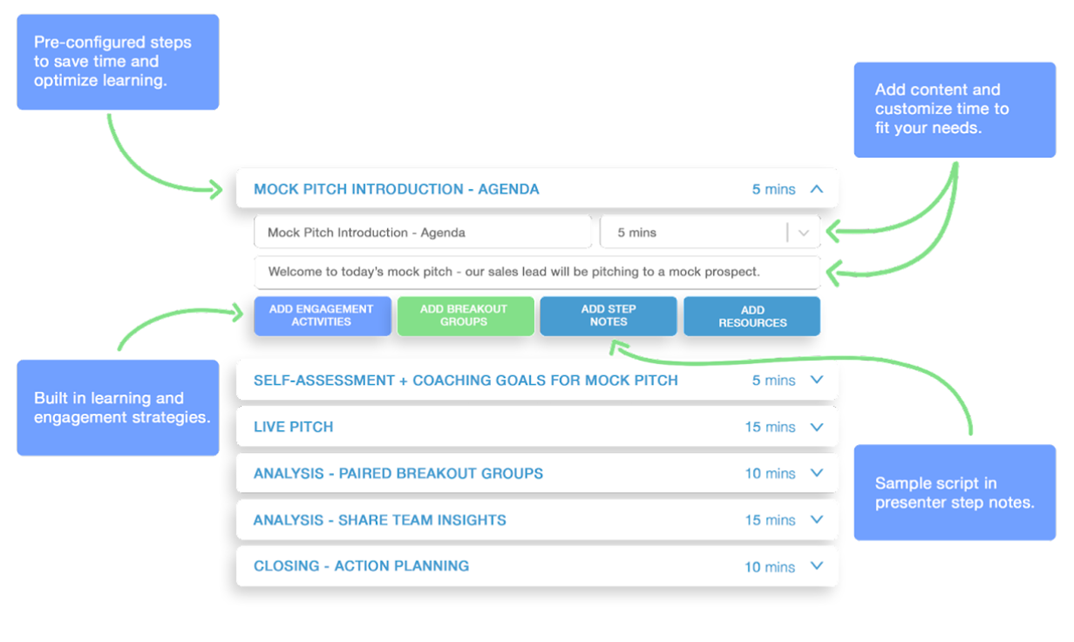 Sidekick Event Playbooks are structured, cloneable events, created by the Sidekick Team that provide a quick and easy starting point for clients looking to create their own engaging learning events. 
Customers can easily search through the Sidekick Playbook Library and clone an event, complete with customizable engagement features, slide decks, facilitator guides, and learner materials.
In just minutes - you can be ready to run an event optimized for adult learning.
Sidekick Games
Sidekick games can be launched at the click of the button to spark delight coming back from break or to enhance learning. Each game includes a leaderboard that reports individual and group performance after playing to help facilitators improve their approach.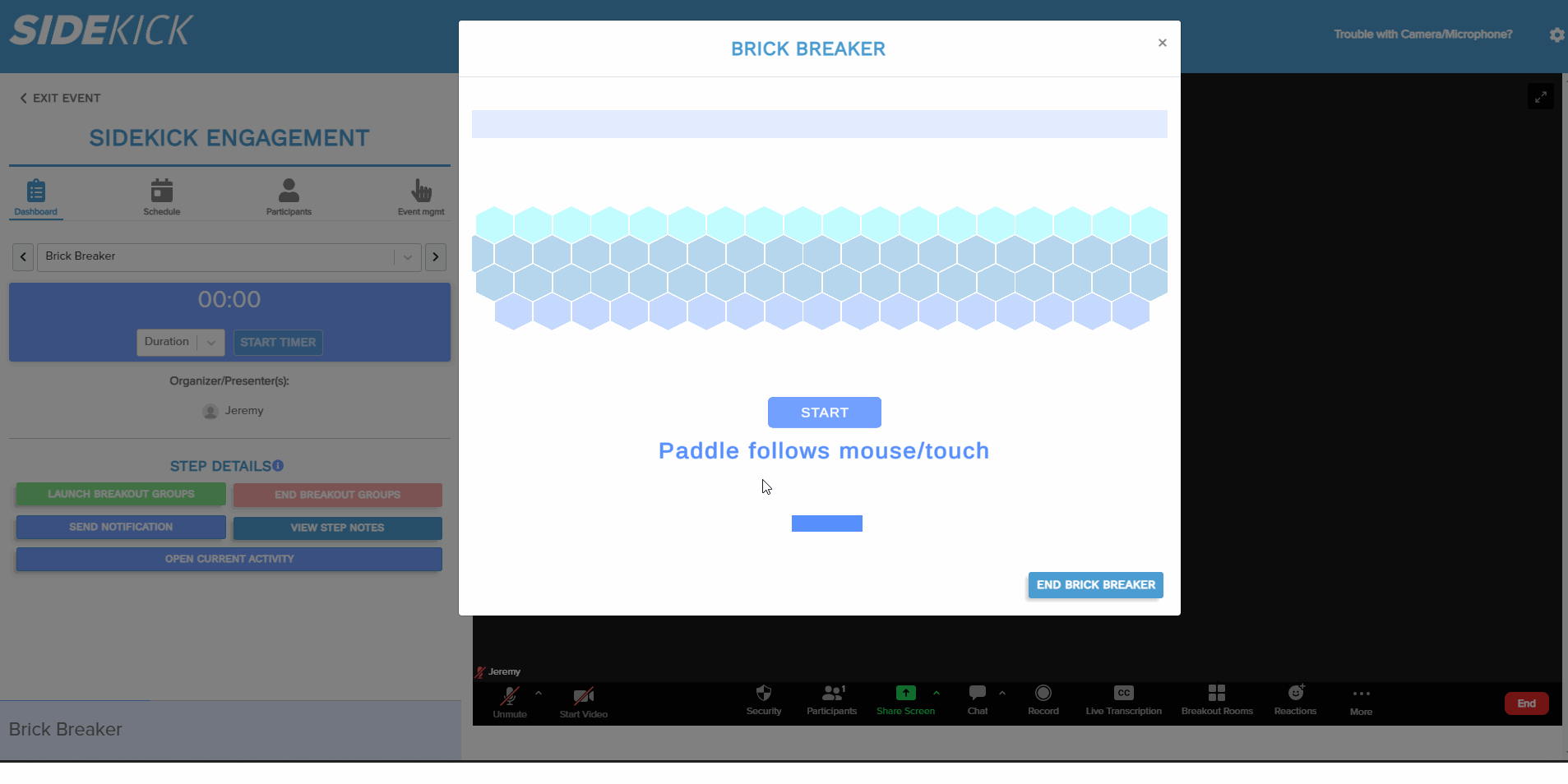 Sidekick Data Dashboard
After an event, Sidekick's data visualizations help companies to measure progress and drive better workplace learning.
Sidekick's Learning Engagement Score shows companies how learners have participated in an event and provides data from learning assessments. 
By drilling down into the engagement details, facilitators can see where participants engaged and how accurately they've answered questions throughout the event.
Ever wonder who was in an event or for how long? When they entered and exited? Sidekick's Attendance Score and Timeline provide you with all that data.
With this data companies have what they need to optimize their professional learning and training events.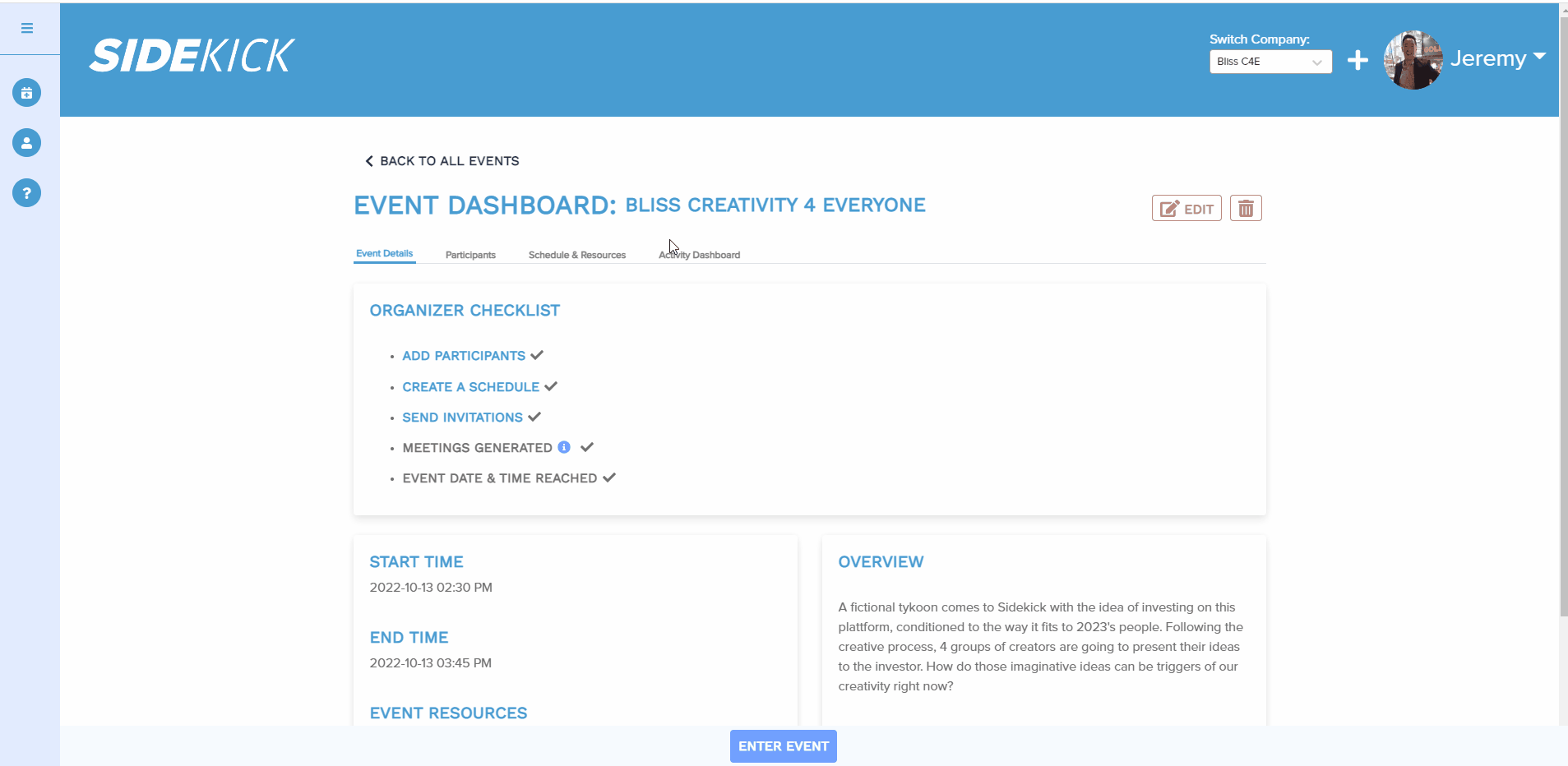 Sidekick VILT Solution
To create great custom VILT learning resources we've partnered with Enable Education who has more than 16 years of experience taking clients know-how and turning it into great learning solutions. 
We'd love to find the right package for your company to take advantage of the Sidekick solution. Reach out to the Sidekick team now to book a demo!